CFP Optical Extender/Carrier Card & Tester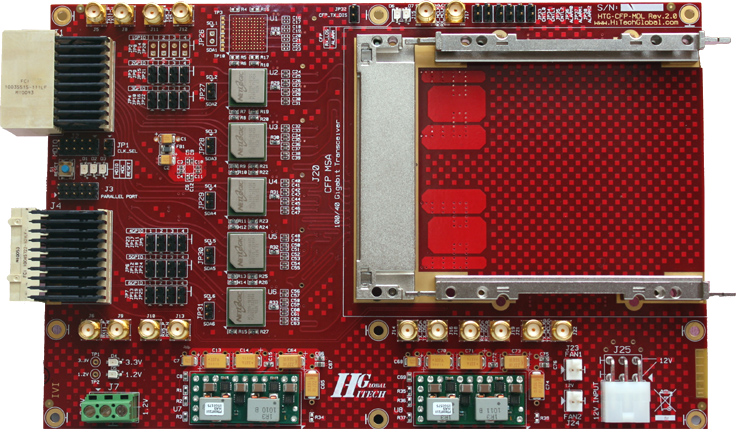 The HTG-CFP extender/carrier card is designed for hosting 100Gig CPF Multi-Source Agreement (MSA) hot-pluggable optical transceiver form factor to enable 40Gb/s and 100Gb/s networking applications. The card mates with HiTech Global V6HXT-100G (based on Xilinx Virtex-6 HXT) or S4G-100G (based on Altera Stratix IV GT) Interlaken compatible platforms. This CFP extender/carrier card can also be used in stand-alone mode with loopback capability.
The CFP extender/carrier card is supported by Netlogic AEL2006 re-timers with Electrical Dispersion Compensation (EDC). HiTech Global offers a derivative of this CPF extender /carrier card without any retimer with direct interface between the FPGA and CFP optical module (part number HTG-CFP-MDL-DI).
The CFP extender/carrier card can also be used in stand alone mode as a CFP module tester. The on-board AEL2006 device includes PRBS pattern generators and checker on the 10 Gbps and XFI transmit outputs and inputs. The AEL2006 implements four PRBS modes on the 10 Gbps outputs and inputs:

• prbs_mode0: x23+x18+1
• prbs_mode1: x31+x28+1
• prbs_mode2: transmit recirculate seed
• prbs_mode3: x9+x5+1

In compliance with IEEE 802.3ae, section 49.2.12 the PRBS checkers will indicate 3 errors per single bit error in the pattern.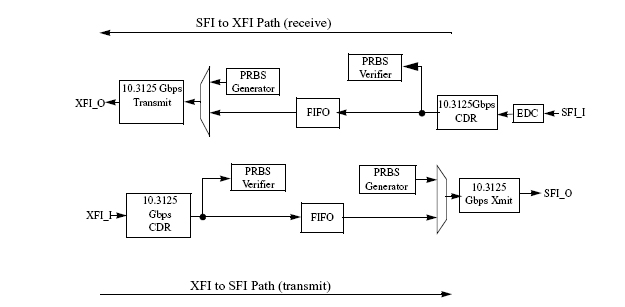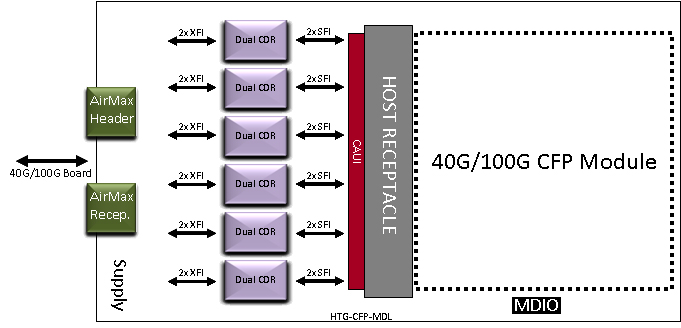 Features:

- Re-timer and EDC chips
- Interlaken compatible Tx/Rx interface
- Support for both stand alone or plugged in options

Ordering information

Part Number:
- HTG-CFP-MDL (carrier card with default 156.25MHz clock)
- HTG-CFP-MDL-OTN (carrier card with default 174.70MHz clock)
- HTG-CFP-MDL-DI (without re-timers and with direct interface to the host FPGA)

Price: $3,200