HTG-530: Xilinx Virtex™ -5 LX330T, FX200T, SX240T PCI Express PPC 440, DSP Platform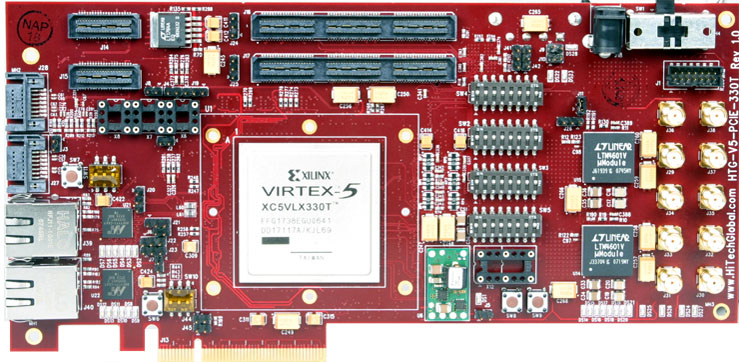 Powered by the largest Xilinx Virtex-5 LXT/FXT/SXT FPGA devices, the HTG-530 is an ideal platform for almost any high-speed, high-density, and high-performance FPGA based design. Availability of more than 330,000 logic cells makes this board ideal for ASIC/SOC prototyping and development.
All 24 RocketIO serial transceivers (GTP/GTX) have been used to provide access to 8 lanes of end-point PCI Express (Gen 1 with LXT/SXT and Gen2 with FXT devices), 2 Gigabit Ethernet ports (SGMII), 2 Serial ATA ports, 8 pairs of SMA, and 10 data-rate-adjustable RocketIO GTP/GTX ports through high speed Samtec connectors (accessible either by cable or add-on modules).
The reference clock of 10 RocketIO GTPs (available on two high-speed connectors located on the upper left corner of the board) can be controlled by series of frequency synthesizer ICs, oscillators, and DIP switches (HTG Super Clock). This provides data throughputs ranging from 622 mbps to 6.25 Gbps supporting variety of different serial interface standards and protocols. Each connector also has its own differential GTP/GTX clock. Different add-on modules including PCIe Root, SATA and 10-port SFP are available to expand the board's capability and features.
2 Serial ATA (SATA) ports support SATA (I) and (II) standard. The data rate is controlled by the HTG Super Clock circuit. SATA Host, Device , and Port Multiplier IP cores are available through HiTech Global.
8 SMA connectors provide access to two RocketIO GTP ports. These ports can be used for GTP characterization, board to board connection, or connection to test and measurement equipments. Two additional SMA connectors can be used for connection to an external differential clock.
Two RJ45 connectors provide Gigabit Ethernet interface for high-speed networking application. Each connector has interface to one RocketIO GTP port for supporting SGMII applications.
The 200-pin (64-bit) SO-DIMM (located on the flip side of the board) provides access to up to 2 GB of DDR-2 memory. A high-performance and easy to integrate DDR-2 Memory Controller IP Core is also available through HiTech Global.
The power distribution is made either through PCI Express mother board "or" a 5V ATX power supply. This provides flexible and reliable power distribution for any FPGA gate and resource utilization (especially when all RocketIO GTP/GTX ports are used in a design).
68 pairs of LVDS (2.5V) signals or 136 Single-ended (3.3V) IOs are available through two Samtec QSE connectors. (The IO banks' voltages are set via set of jumpers). Two pairs of differential clocks, 2.5V, and 3.3V supply voltages are also available on each connector.
A PCI Express Jitter Attenuator IC provides higher low jitter PCIe clock interface. The circuit can be bypassed by two on-board jumpers.
A 256 mb Intel flash component provides ample storage area for the on-board LX330T / FX200T/ SX240T FPGA configuration bits. This allows immediate configuration of the onboard FPGA when power is applied to the board. Remote configuration of the FPGA is possible when a PCIe motherboard (host) is equipped with configuration signals as part of its CPU Jtag chain.
Features:

►Xilinx Virtex-5 LX330T, FX200T, or SX240T FPGA (FF1738 package)
►8-Lane PCI Express End-Point (upstream) Connector - Gen 1 with LXT/SXT and Gen 2 with FXT
►Up to 2 GB of SO-DIMM DDR2 Memory (the SO-DIMM socket is populated on the flip side of the board )
►2 RocketIO GTP (3.128 Gbps) /GTX (6.5 Gbps) Ports accessible through 8 SMA connectors (4 Rx & 4 Tx with SMA for external clock)
►0 datarate-adjustable RocketIO GTP/GTX Ports accessible through high speed Samtec QSE connectors
►68 Pairs of LVDS (2.5V) or 136 Single-Ended (3.3V) IOs accessible through high speed Samtec connectors
►2 SATA Ports (I/II)
►2 Gigabit Ethernet Ports (both with SGMII support)
►PCI Express Jitter Attenuator with adjustable outputs
►Super Clocks with adjustable outputs for the SATA and RocketIO GTP ports
►External Clock input
► 256 Mb Intel Flash Memory (for FPGA configuration and additional Flash storage)
► ATX and Standard 5 V Power Connectors (supporting stand alone operation)
► Jumper for Stand Alone mode
► Jumper for FPGA configuration via PCIe bus
► Size: 8.75 " x 4.25 "


Kit Content:

- HTG-530 Board
- CD ROM with User Manual, Schematics, (in searchable pdf format) , Software Drivers (eval.), x8 PCI Express Reference Demo (DMA), x8 Xilinx Coregen PIO , free DDR-2 Memory controller and IBERT reference designs.

Part Number & Price:

HTG-V5-PCIE-330-1 (with XC5VLX330T-1FFG1738C) : Contact us
HTG-V5-PCIE-330-2 (with XC5VLX330T-2FFG1738C) : Contact us
HTG-V5-PCIE-200-2 (with XC5VFX200T-2FFG1738C) : Contact us
HTG-V5-PCIE-240-2 (with XC5VSX240T-2FFG1738C) Contact us