HTG-540 : Xilinx Virtex®5 TX240T PCI Express & 40 GIG SFP+ Development Platform - NetFPGA10G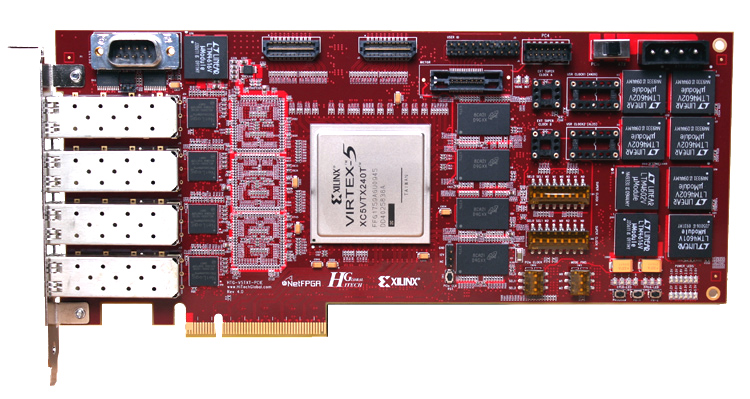 Powered by the largest Xilinx Virtex-5 TXT FPGA device, this is an ideal platform for high-performance and high density networking designs.
44 RocketIO GTX serial transceivers have been used to provide access to 8 lanes of end-point PCI Express (Gen 1/Gen2), 4 SFP+ (10Gbps) ports, and 20 data-rate-adjustable RocketIO GTX ports through two high speed Samtec connectors (accessible either by cable or add-on modules).
Reference clocks of the data-rate-adjustable RocketIO GTX Ports (available on two high-speed connectors) can be controlled by series of frequency synthesizer ICs, oscillators, and DIP switches (HTG Super Clock). This provides data throughputs ranging from 622 mbps to 6.5 Gbps supporting variety of different serial interface standards and protocols.
Wide high-speed memory interfaces in form of 3 x36bit QDRII SRAM interfaces and 2 x64bit RLDRAMII interfaces provide an ideal memory solution for most common networking applications.
The power distribution is made either through PCI Express mother board "or" a 12V ATX power supply. This provides flexible and reliable power distribution for any FPGA gate and resource utilization (especially when all RocketIO GTX ports are used in a design).
A PCI Express Jitter Attenuator IC provides low jitter PCIe clock interface. The circuit can be bypassed by two on-board jumpers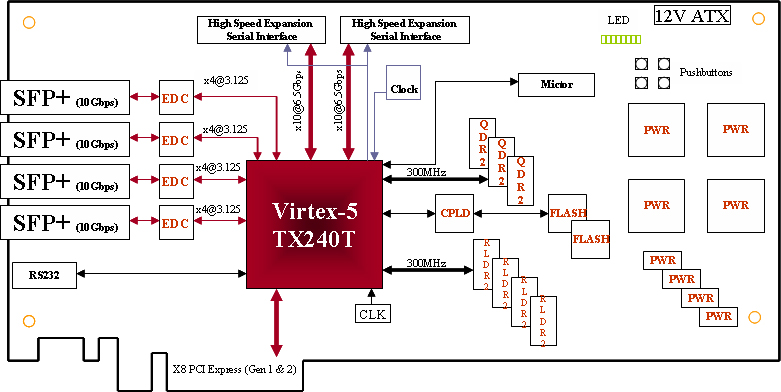 Features:

►Xilinx Virtex-5 XC5VTX240T-2FFG1759C FPGA

►Four SFP+ interface (using 16 RocketIO GTX transceivers and 4 Broadcom external PHY devices)
- Supports both 10Gbps and 1Gbps modes
►X8 PCI Express Gen 2 (5Gbps/lane)

►Twenty Configurable GTX Serial Transceivers (available through two high-speed Samtec connectors)

►Three x36 Cypress QDR II (CY7C1515JV18)

►Four x36 Micron RLDRAM II (MT49H16M36HT-25)

►Mictor Connector for debugging

►Two Xilinx Platform XL Flash (128mb each) devices
►One Xilinx XC2C256 CPLD

► One DB9 (RS232) port
► User LEDs & Push Buttons
► 9.5" x 4.25"

Kit Content:

- HTG-V5TXT-PCIE Board
- User Manual, Schematics (in searchable pdf format) , Software Drivers (eval.), PCI Express Gen 1 CoreGen PIO , QDR-II Memory, and ChipScope PRO IBERT reference/test designs (for RocketIO serial transceivers)

- Code base designs ( available at the NetFPGA10G site)

Ordering information

Part Number: HTG-V5TXT-PCIE
Price: Contact us