Product Updates
Related Links

HTG-520: Virtex™ 5 8-Lane PCI Express Development Platform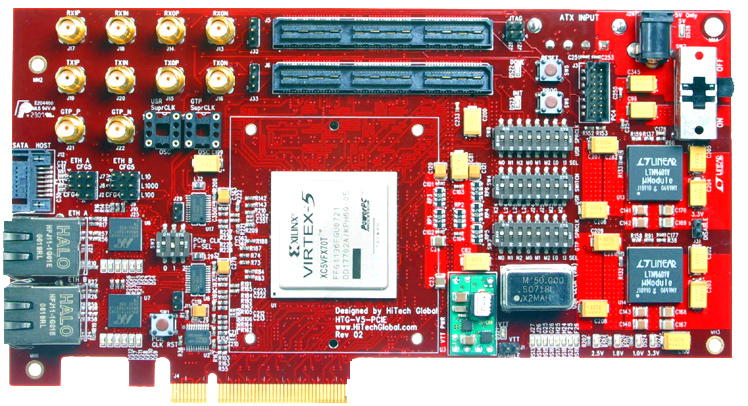 The HTG-520 board is powered by Xilinx Virtex™-5 FX100T, FX70T, SX95T or LX110T and supports 8 lanes of PCI Express Gen 1 & 2 end-point applications.

The HTG-520 provides wide variety of connectors and interfaces including ;one PCI Express 8-lane endpoint , two Gigabit Ethernet (10/100/1000, one with SGMII support), eight SMA (connected to two RocketIO GTP/GTX channels), and two Samtec with 64 pairs of LVDS (for DVI Tx, USB 2.0, Cameralink , and I/O modules).

The HTG-520 board provides access to up to 2 GB of DDR-2 memory through one set of SODIMM socket.
The HTG-520 can be used either as stand-alone or PCI Express based card. This provides additional functionality and cost saving so designers can use the board for multiple designs and projects (embedded systems development, digital signal processing, etc.)
The HTG-520 board is supported by many different IP Cores provided by HiTech Global.
Supported Virtex-5 devices:
| | | | | | | |
| --- | --- | --- | --- | --- | --- | --- |
| Part Number | XC5VLX50T | XC5VLX85T | XC5VLX110T | XC5VSX95T | XC5VFX70T | XC5VFX100T |
| Slices | 7,200 | 12,960 | 17,280 | 14,720 | 11,200 | 16,000 |
| Logic Cells | 46,080 | 82,944 | 110,592 | 94,208 | 71,680 | 102,400 |
| CLB Flip-Flops | 28,800 | 51,840 | 69,120 | 58,880 | 44,800 | 64,000 |
| Maximum Distributed RAM (Kbits) | 480 | 840 | 1,120 | 1,520 | 820 | 1,240 |
| Block RAM/FIFO w/ECC (36Kbits each) | 60 | 108 | 148 | 244 | 148 | 228 |
| Total Block RAM (Kbits) | 2,160 | 3,888 | 5,328 | 8,784 | 5,328 | 8,208 |
| Digital Clock Managers (DCM) | 12 | 12 | 12 | 12 | 12 | 12 |
| Phase Locked Loop (PLL)/PMCD | 6 | 6 | 6 | 6 | 6 | 6 |
| Maximum Single-Ended Pins | 480 | 480 | 680 | 640 | 640 | 680 |
| Maximum Differential I/O Pairs | 240 | 240 | 340 | 320 | 320 | 340 |
| DSP48E Slices | 48 | 48 | 64 | 640 | 128 | 256 |
| PowerPC® 440 Processor Blocks | — | — | — | — | 1 | 2 |
| PCI Express Endpoint Blocks | 1 | 1 | 1 | 1 | 3 | 3 |
| 10/100/1000 Ethernet MAC Blocks | 4 | 4 | 4 | 4 | 4 | 4 |
| RocketIO GTP Low-Power Transceivers | 12 | 12 | 16 | 16 | — | — |
| RocketIO GTX High-Power Transceivers | — | — | — | — | 16 | 16 |
| Configuration Memory (Mbits) | 14.1 | 23.3 | 31.1 | 35.7 | 27 | 39.4 |
Features:

►Xilinx Virtex-5 XC5VLX110T, XC5VFX100T, XC5VFX70T or XC5VSX95T
►8-Lane PCI Express End-Point Connector
►One Serial ATA (SATA) Host Connector (I/II)
►One SGMII Ethernet Connector (using one RocketIO GTP/GTX)
►One Tri-Mode Ethernet Connector (10/100/1000)
►Eight SMA Connectors (4 Tx and 4 Rx) - Connected to two RocketIO GTP/GTX
Transceivers (SerDes)
►One DDR2 SO-DIMM (up to 2GB)
►4 MB Flash Memory (for FPGA configuration and storage)
►Two LVDS Samtec Headers (total of 64 pairs)
►GTP Super Clock
►User Super Clock
►Adjustable PCI Express Jitter Attenuator
►External Clock Input
►GTP, User, and Super Clock Switches
►Configurable (FPGA) through PCI Express bus
►ATX and Standard 5 V Power Connectors
►Jumper for Stand Alone mode
►Jumpers for FPGA configuration via PCI Express bus
►Size: 8" x 4.25" (20 cm x 11 cm)

Kit Content:

- HTG-V5-PCIE Board
- Free high performance DDR2 Memory Controller Netlist
- User Manual, Schematics (in searchable pdf format) , Software Drivers (eval.), PCI Express Gen 2 back-end (DMA) reference demo, PCI Express Gen 1 CoreGen PIO design , and ChipScope PRO IBERT reference/test designs (for RocketIO serial transceivers)

Part Number & Price:

- HTG-V5-PCIE-110-1 (with XC5VLX110T-1FFG1136C Virtex 5 FPGA)
Price: $3,200

- HTG-V5-PCIE-110-3 (with XC5VLX110T-3FFG1136C Virtex 5 FPGA)
Price: $3,950

- HTG-V5-PCIE-FX70 (with XC5VFX70T-2FFG1136C Virtex 5 FPGA)
Price: $3,400 [Buy Online]

- HTG-V5-PCIE-FX100-3 (with XC5VFX100T-3FFG1136C Virtex 5 FPGA)
Price: $3,900 [Buy Online]

- HTG-V5-PCIE-SX95-1 (with XC5VSX95T-1FFG1136C)
Price: $3,200

- HTG-V5-PCIE-SX95-2 (with XC5VSX95T-2FFG1136C)
Price: $3,950 [Buy Online]