Product Updates
Related Links

HTG-600: Xilinx Virtex™ 6 PCI Express Gen 2 / SFP / USB 3.0 Development Board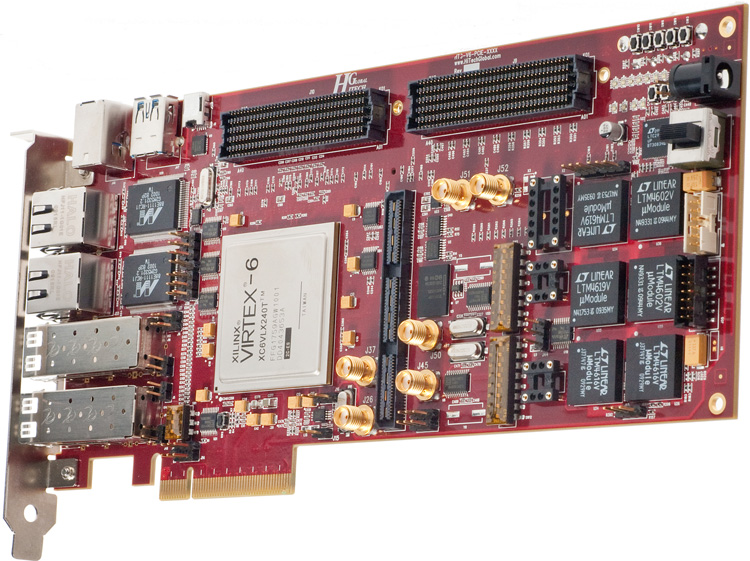 Designed for high-performance and high-density applications, the HTG-600 series are supported by Xilinx Virtex-6 LX550T, LX240T, LX365T, SX475T or SX315T FPGAs. To expand functional capability and provide more flexibility, the HTG-600series are designed for operation in x8/x4/x1 PCI Express Gen 1, Gen 2 or stand alone mode.

The HTG-600 series are supported by wide range of industry standard connectors and interfaces including ; 8-lane PCI Express Gen2, Gigabit Ethernet (10/100/1000), SMA (connected to two Virtex-6 GTX serial transceivers & external clock), USB 2.0/3.0 Host, USB 2.0/3.0 Device, SFP, DDR3, and Vita-57 FPGA Mezzanine Connectors.
The expansion connectors provide access to up to 448 parallel IOs and 20 serial GTX transceivers of the on-board Virtex-6 device. The FMC connector can host off-the-shelf Vita-57 modules as well those developed by HiTech Global. Interfaces such as Single / Dual CX4, Dual / Quad SATA, Quad SFP, Dual / Quad SFP+ (20Gbps/40Gbps), and RJ45 are supported by the HiTech Global FMC modules.
To protect intellectual properties running on the Virtex-6 FPGA, the board is supported by an "IP Protection" chipset.
Supported Virtex-6 devices:
| | | | | | |
| --- | --- | --- | --- | --- | --- |
| | XC6VLX240T | XC6VLX365T | XC6VLX550T | XC6VSX475T | XC6VSX315T |
| Slices | 37,680 | 56,880 | 85,920 | 74,400 | 49,200 |
| Logic Cells | 241,152 | 364,032 | 549,888 | 476,160 | 314,880 |
| CLB Flip-Flops | 301,440 | 455,040 | 687,360 | 595,200 | 393,600 |
| Maximum Distributed RAM (Kbits) | 3,650 | 4,130 | 6,200 | 7,640 | 5,090 |
| Block RAM/FIFO w/ ECC (36Kbits each) | 416 | 416 | 632 | 1,064 | 704 |
| Total Block RAM (Kbits) | 14,976 | 14,976 | 22,752 | 38,304 | 25,344 |
| Mixed Mode Clock Managers (MMCM) | 12 | 12 | 18 | 18 | 12 |
| Maximum Single-Ended I/O | 720 | 720 | 1200 | 840 | 720 |
| Maximum Differential I/O Pairs | 360 | 360 | 600 | 420 | 360 |
| DSP48E1 Slices | 768 | 576 | 864 | 2,016 | 1,344 |
| PCI Express® Interface Blocks | 2 | 2 | 2 | 2 | 2 |
| 10/100/1000 Ethernet MAC Blocks | 4 | 4 | 4 | 4 | 4 |
| GTX Low-Power Transceivers | 24 | 24 | 36 | 36 | 24 |
| Commercial | -L1, -1, -2, -3 | -L1, -1, -2, -3 | -L1, -1, -2 | -L1, -1, -2 | -L1, -1, -2, -3 |
| Configuration Memory (Mbits) | 70.4 | 91.6 | 137.4 | 149.4 | 99.6 |
Features:
►Xilinx Virtex 6 LX550T, LX365T, LX240T, SX475T, or SX315T in different speed grades
►x8 PCI Express Gen 2 Edge Connector
►PCI Express Jitter Attenuator for cleaning PC clock and generating different PCIe clocks (100MHz, 250MHz, etc.)
►DDR3 SO-DIMM (up to 8GB)
►One USB 2.0 & 3.0 Host port
►One USB 2.0 & 3.0 Device port
►Two SFP ports (two SFP+ connectors are available through HTG-FMC-SFP-PLUS module)
►Four SMA connectors for one GTX serial transceiver port (8 additional SMA ports are available through HTG-FMC-8SMA module)
►Two SMA connectors for external differential clock
►Two 10/100/1000 Ethernet ports with SGMII, RGMII, and GMII support using Marvell 88E111 PHY (4 additional SGMII ports are available through HTG-FMC-RJ45 module)
►FMC Vita 57 compliant Connectors with :
- Connecter #1:
160 Single Ended IOs (or 80 LVDS), & ten Data-Rate-Adjustable GTX transceivers with the LX550T, LX365T, LX240T, SX475T, or SX315T models
- Connecter #2:
126 Single Ended IOs (or 63 LVDS) with the LX365T, LX240T, or SX315T models
160 Single Ended IOs (or 80 LVDS), & ten Data-Rate-Adjustable GTX transceivers with the LX550 and SX475 models
►Auxiliary FMC Super Clock for board-to-board communication
►Samtec QSE High-speed connectors with 32 pairs of LVDS IOs
►IP Protection Chipset
►Power Management Bus for all voltage rails
►Size: 9.5" x 4.25"
►Support for both PCI Express and stand alone operation modes
►Standard ATX and wall power supply connectors
Part Number & Price:

- HTG-V6-PCIE-L240-2 (with XC6VLX240T-2FFG1759 FPGA) - Contact us
- HTG-V6-PCIE-L240-3 (with XC6VLX240T-3FFG1759 FPGA) - Contact us
- HTG-V6-PCIE-L365-2 (with XC6VLX365T-2FFG1759 FPGA) - Contact us
- HTG-V6-PCIE-L365-3 (with XC6VLX365T-3FFG1759 FPGA) - Contact us
- HTG-V6-PCIE-L550-2 (with XC6VLX550T-2FFG1759 FPGA) - Contact us|
- HTG-V6-PCIE-S315-2 (with XC6VSX315T-2FFG1759 FPGA) - Contact us
- HTG-V6-PCIE-S315-3 (with XC6VSX315T-3FFG1759 FPGA) - Contact us
- HTG-V6-PCIE-S475-1 (with XC6VSX475T-1FFG1759 FPGA) - Contact us
- HTG-V6-PCIE-S475-2 (with XC6VSX475T-2FFG1759 FPGA) - Contact us

Kit Content:

- HTG-600 Board
- User Manual, Schematics (in searchable pdf format) , Software Drivers (eval.), PCI Express Gen 2 back-end (DMA) reference demo, PCI Express Gen 2 CoreGen PIO design , DDR3 controller, and ChipScope PRO IBERT reference/test designs (for GTX serial transceivers)



Accessories (FMC Modules)