Product Updates
Product Updates


4-Port QSFP28 (4x100G) / QSFP+ (4x40G or 2x56G) FMC+ Module (Vita57.4)


Vita 57 provides a mechanical standard for I/O mezzanine modules. This standard introduces a methodology that shall allow the front panel IO of IEEE 1101 form factor cards to be configured via mezzanine boards. Vita 57 modules have fixed locations for serial/parallel IOs, clocks, Jtag signals, VCC, and GND. HiTech Global's Vita 57 modules can be plugged into any Vita 57 compliant carrier boards.
This Vita57.4 compliant FMC+ module is supported by four QSFP28 (100G) or four QSFP+ (40G/56G) ports and one Ultra-low jitter (90 fs rms) programmable clock generator (Si5341) providing flexible clocks (LVDS, LVPECL, LVCMOS, CML, and HCSL) for serial transceivers of the host FPGA. The I2C bus of the clock generator can be controlled either by host FPGAs or the on board PIC processor.
Each QSFP28 /QSFP+ port is directly connected to four multi-gigabit serial transceivers of Vita 57.4 compliant FPGA carrier boards.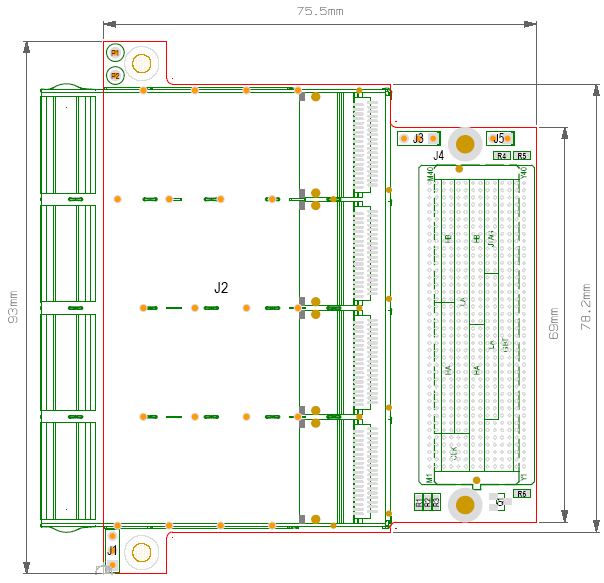 Features:

►x4 QSFP28 (4x100G) / QSFP+ (4x40G/56G) Connectors

►x1 Texas Instrument

LMK61E2

programmable oscillator

►x1 programmable clock generator (Si5341) providing dedicated clocks for each serial transceiver's quad

►x1 PIC processor for I2C programming

►x1External differential clock SMA port

►x1EEPROM

►x1FMC+ Connector

Ordering information

-Part Number: HTG-FMC-X4QSFP28
- Price: $895 [Buy Online]


ECCN #: EAR99
SCHEDULE B #: 8471601050
Related Products:
Supported
HiTech Global's
Xilinx /Altera FPGA Carrier Boards


QSFP28

QSFP28 SR4 (100 m) [Buy Online]
QSFP28 LR4 (10 km) [Buy Online]
QSFP28 PSM4 (2 km) [Buy Online]


QSFP28 AOC


-Active Optical Cables
-Direct Attach Passive Copper