4-Port / Low-Profile Samtec FireFly (4x100G) FMC+ Module (Vita57.4 compliant)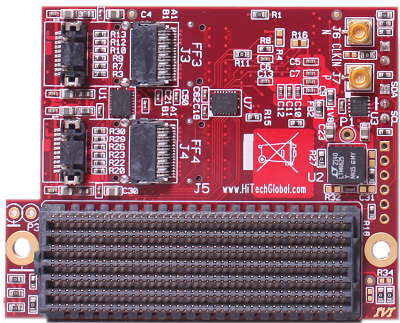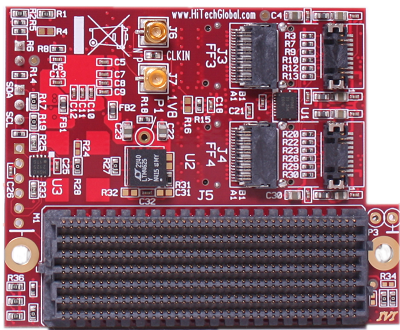 x4FF-L (left turn) bottom side x4FF-R (right turn) bottom side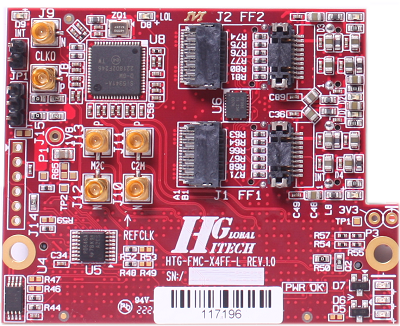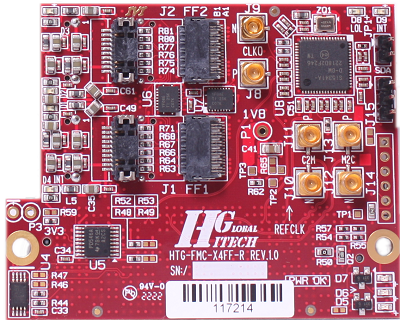 x4FF-L (left turn) top side x4FF-R (right turn) top side

Each of these Vita57.4 compliant FMC+ modules are supported by four Samtec FireFly ports (4x100G) and one ultra-low-jitter programmable clock generator. The device registers and EEPROM settings of the clock generator are fully programmable in-system via I2C serial interface for easy generation of other industry standard or custom clocks. The I2C bus can be controlled either by host FPGAs or the on board PIC processor.

Each FireFly port is directly connected to four multi-gigabit serial transceivers of Vita 57.4 compliant FPGA carrier boards. The mechanical features of each module allow its integration with standard PCIe boards inside 4U chassis.

The FireFly™ Micro Flyover System™ is the first interconnect system that gives designers flexibility of using micro footprint optical and copper interconnects interchangeably with the same connector system.

The FireFly™ system enables chip-to-chip, board-to-board, on-board and system-to-system connectivity at data rates up to 28 Gbps . FireFly™ is based on a high performance interconnect system which allows the use of low-cost copper cables or high performance active optical engines.

Samtec copper, equalized copper, and optical cable systems provide the flexibility to achieve higher data rates and/or greater distance needs while simplifying board design and enhancing performance.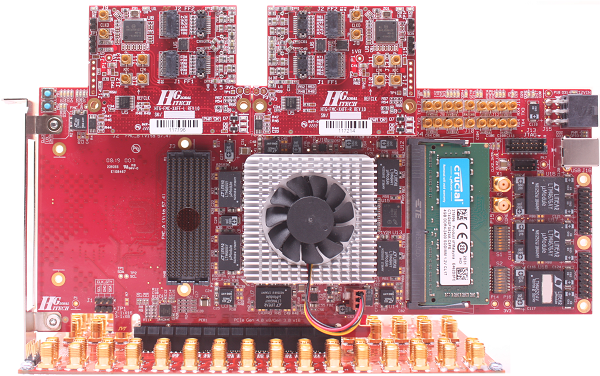 FireFly Optical

- Performance to 28 Gbps
- x4 bidirectional
- OM3 multi-mode fiber
- PCIe®-Over-Fiber optical cable system with Gen 3 data transfer rates to 100 m (PCUO)
- PCIe®-Over-Fiber adaptor card supports transparent and non-transparent bridging (PCOA)

FireFly Copper

- Performance to 28 Gbps
- x4 bidirectional Standard copper (ECUE), optimized copper (ECUE-2)

and PCIe®-Over-FireFly™ copper (PCUE) assemblies
Features:

►x4 Samtec FireFly (4x100G) Connectors (2 on the top and 2 on the bottom side of the module)
►x1 Silicon lab Si5341 programmable clock generator
►x1 PIC processor for I2C programming
►x1 EEPROM
►x1 FMC+ Vita57.4 Connector
►Size: 55 mm x 69 mm

Ordering information

-Part Numbers:

HTG-FMC-X4FF_L (left turn)
-Price: $695 [Buy Online]

HTG-FMC-X4FF_R (right turn)
Price: $695 [Buy Online]

ECCN #: EAR99
SCHEDULE B #: 8471601050