Configurable SPDIF-AES/EBU Transmitter IP Core
Overview:

The CWda15 Configurable SPDIF-AES/EBU Transmitter is a digital audio transmitter IP core supporting the SPDIF IEC60958, AES/EBU and AES3 standard and also the IEC61937 and SMPTE 337M for non-PCM audio. When transmitting PCM audio, the user must ensure the availability of data in the FIFO. If the FIFO gets empty, silencing SPDIF frames marked as invalid sent are until the arrival of new audio data. When transmitting Non-PCM bursts, the CWda15 will optionally fill the SPDIF sub-frames with zeros until the next burst, if the repetition periods for the data burst and the pause burst are provided. When the FIFO is empty, the CWda15 sends bit stuffing and periodic NULL Data Bursts according to the Non-PCM IEC61937 standard. The Modular structure of CWda15 allows enhanced performance for specific applications by using (not using) the optional Addon- Modules (AOM).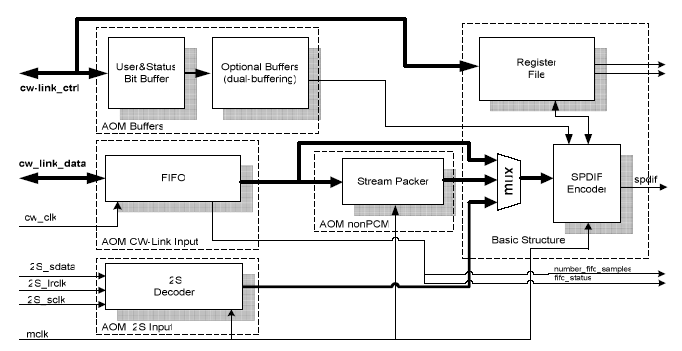 Functional description:

FIFO: this is a circular, asynchronous, first in first out RAM used to save audio data (PCM /non-PCM). It contains a register to indicate the number of words present in the FIFO at each moment. Attempts to write when it is full will assert low the write signal.
Register File: contains information concerning the state of the CWda15 IP core, and concerning the audio stream being sent. It also contains the FIFO information regarding the number of words currently in of the FIFO, its maximum capacity, and the configurable register Lower FIFO Limit.

User & Channel Status Bits Buffers: the user and channel status bits can be saved in internal buffers that are organized in 192-bit blocks subdivided into 24 bytes. These bytes can be programmed by addressing them from the Control CW-link interface.
Optional Buffers: When the pre-synthesis parameter use_dual_buffering is set, the user and status bits are read from these optional buffers. After the complete relay of an SPDIF block, the bits in the user-accessible User & Status Bits Buffers (mentioned before) are copied into these buffers to be used while transmitting the next SPDIF block. This allows the user the time of one entire SPDIF block to write the
new data into the User & Status Bits Buffers (1 ms at 96kHz).
SPDIF Encoder: retrieves audio data from the FIFO and according to the control bits in the Configuration Register builds the SPDIF frame, selecting the appropriate preamble and making the data available when needed. It also calculates the parity bit, signals the start of a frame and sets the frame number.

Stream Packer: Manage the non-PCM stream. It composes the data and pause bursts according the current configurations generating any necessary stuffing. If incoherent data is read from the FIFO the stream packer filters those data sending bit stuffing until a new valid data
burst occur.
Key Features:

Supports the IEC60958 (SPDIF), AES3, AES/EBU standards for PCM audio transmission
Supports the IEC61937, SMPTE 337M standards for non-PCM audio transmission
Supports any sample rates up to frequency mclk/256 including 32, 44.1, 48, 96 and 192 kHz
Reduced bandwidth by automatic insertion of stuffing bits in non-PCM mode
Automatic insertion of Validity bits in non-PCM mode
Flexible Coreworks Link interface, which permits bridging to standard interfaces (IBM CoreConnect™, AMBA™, etc).
Separate interfaces for data and control.
Modular Structure using optional Add-on-Modules (AOM
Channel Status and User Data memory mapped buffers
Configurable audio data FIFO, reporting number of samples in FIFO and programmable almost empty
condition.
I2S input interface, which permits direct interface with most audio ADCs and other audio devices.

Applications:

Digital audio (CD, SACD, DVD-Audio), and multimedia systems (VCD, SVCD, DVD) using Dolby Digital® (AC-3), AAC or other multi-channel encoded audio.

Benefits:

No analog PLL required for clock and data recovery
The most comprehensive SPDIF IP in the market (successor of the CWda01 and CWda03 IPs)
Pre-synthesis configuration to allow keeping only what you need.
Run-time configuration for multiple operation modes.

Deliverables:

• Detailed datasheet and user documentation for system integration.
• HDL testbench covering all functionalities of the core and including automatic verification of the correctness of the responses.
• Options:
o FPGA Netlist
o HDL (VHDL or VERILOG) source code.
o Simulation script..
o Prototyping boards.

Implementation Results:


| | | | | | |
| --- | --- | --- | --- | --- | --- |
| Technology | Structure | Gate count | RAM | Supported Audio Frequency | Frequency (cw_clk) |
| UMC 180 nm | BS | 4k | - | 384 KHz | 500MHz |
| UMC 180 nm | I2S_INPUT | | | 384 KHz | 500MHz |
| UMC 180 nm | CW_LINK_INPUT | <1k | 256 bits | 384 KHz | 500MHz |
| UMC 180 nm | NON_PCM | 2k | - | 384 KHz | 500MHz |
| UMC 180 nm | BUFFERS | <1k | 192 bytes | 384 KHz | 500MHz |

| | | | | | | | | | |
| --- | --- | --- | --- | --- | --- | --- | --- | --- | --- |
| Family | Example Device | Slices | IOB | GCLK | Mult | BRAM | cw_clk Fmax (MHz) | Max. Supported Audio Frequency | Design Tools |
| Spartan-3E™ | xc3s500e-4 | 265 | 134 | 2 | - | - | 167,4 | 384kHz | ISE 8.2.03i |
| Spartan-3™ | xc3s400e-4 | 265 | 134 | 2 | - | - | 172,7 | 384kHz | ISE 8.2.03i |
| Spartan-IIE™ | xc2s600e-6 | 291 | 132 | 2 | - | - | 108,8 | 384kHz | ISE 8.2.03i |
| Virtex-II Pro™ | xc2vp2-6 | 300 | 134 | 2 | - | - | 200,8 | 384kHz | ISE 8.2.03i |
| Virtex-II™ | xc2v250-4 | 301 | 134 | 2 | - | - | 186,5 | 384kHz | ISE 8.2.03i |
| Virtex-4™ | xc4vlx15-10 | 316 | 134 | 2 | - | - | 204,4 | 384kHz | ISE 8.2.03i |

Implementation results for the CWda15 (BS + CW-Link)

| | | | | | | | | | |
| --- | --- | --- | --- | --- | --- | --- | --- | --- | --- |
| Family | Example Device | Slices | IOB | GCLK | Mult | BRAM | cw_clk Fmax (MHz) | Max. Supported Audio Frequency | Design Tools |
| Spartan-3E™ | xc3s500e-4 | 769 | 134 | 2 | - | - | 102,2 | 192kHz | ISE 8.2.03i |
| Spartan-3™ | xc3s400e-4 | 704 | 134 | 2 | - | - | 107,1 | 192kHz | ISE 8.2.03i |
| Spartan-IIE™ | xc2s600e-6 | 950 | 132 | 2 | - | - | 84,8 | 192kHz | ISE 8.2.03i |
| Virtex-II Pro™ | xc2vp2-6 | 721 | 134 | 2 | - | - | 200,2 | 384kHz | ISE 8.2.03i |
| Virtex-II™ | xc2v250-4 | 727 | 134 | 2 | - | - | 134,6 | 384kHz | ISE 8.2.03i |
| Virtex-4™ | xc4vlx15-10 | 715 | 134 | 2 | - | - | 179,4 | 384kHz | ISE 8.2.03i |

Implementation results for the CWda15 (All AOM)

Other Digital Audio IP Cores:

| | |
| --- | --- |
| IP Name/Part # | Description |
| CWda03 | SPDIF-AES/EBU to I2S Converter |
| CWda04 | I2S to SPDIF-AES/EBU Converter |
| SPDIF-CWda14 | Configurable SPDIF-AES/EBU Receiver |
| SPDIF-CWda15 | Configurable SPDIF-AES/EBU Transmitter |
| I2S-CWda16 | Configurable Digital Audio Serial Input |
| I2S-CWda17 | Configurable Digital Audio Serial Output |
| SDI-CWda41 | SDI Audio De-embedder |
| SDI-CWda42 | SDI Audio Embedder |
| CWda30 | 3rd Order Stereo Digital Audio Sigma-Delta Modulator |
| SRC-CWda50 | Stereo / Mono Sample Rate Converter |
| SRC-CWda52 | Multi-Channel Audio Sample Rate Converter (ASRC) |