Multi-Channel Audio Sample Rate Converter (ASRC) IP Core
Overview:

The CWda52 is a Multi-channel Asynchronous Audio Sample Rate Converter (ASRC). This core can be used to interface digital audio equipment operating at different sample rates. It has been designed for systems requiring very high quality in terms of harmonic distortion and noise: it can realize most common sample rate conversions with less than -120 dB of Total Harmonic Distortion plus Noise (THD+N), having also a Dynamic range of 131 dB. The CWda52 uses the Audio Parallel Interface (CWAPI) for the input and output audio data, which permits bridging to other interfaces: I2S, SPDIF-AES/EBU, AMBA, PowerPC (CoreConnect).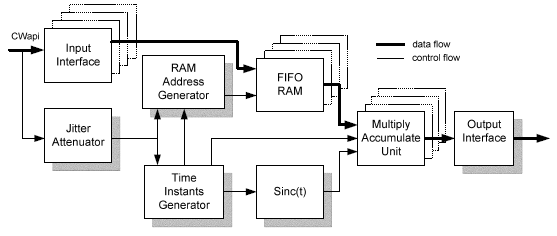 Functional Description:
Input Interface: receives the audio samples in the CWAPI format and stores them in the FIFO RAM, providing the write address to that module. There is one of these units per pair of channels.

Jitter Attenuator: measures the sample rate conversion ratio and performs the synchronization necessary between the two different clock domains with excellent jitter rejection. Also provides information regarding the pointer of the initial read address to the RAM Address Generator and to the Time Instants Generator at the beginning of the FIR Filter convolution.

Time Instants Generator: generates the Time Instants used by the Sinc(t) module, so that the correct coefficient set is used in the FIR filter. It also generates some control signals used by the RAM Address Generator module and by the Multiply Accumulate Unit.

RAM Address Generator: generates the addresses for the FIFO RAM module to supply the correct set of audio samples to the FIR filter.

Sinc(t): this module can compute 229 values of a sinc(t) function spanning 32 zeros. It outputs the coefficients used by the FIR filter.

FIFO RAM: it is circular first in first out RAM, organized in such way as to store up to 4 pairs of audio channels, with a depth of 512 words for each audio channel. There is one of these units per pair of channels.

Multiply Accumulate Unit: performs the multiply and accumulate operation needed in one convolution cycle for each audio pair channel, multiplexed in time. There is one of these units per pair of channels.
Key Features:

Converts between asynchronous sample rates
Multi-channel audio, configurable up to 8 channels
Lower than -120 dB THD+N for common conversion rates
Greater than 131 dB Dynamic Range for common conversion rates
Fully digital solution
Flexible Audio Parallel Interface (CWAPI) at the input and output, which permits bridging to other standard interfaces (IBM CoreConnect™, AMBA™, I2S and AES-EBU/SPDIF)
Input and output sample rate range: 8kHz to 96kHz
Sampling rate conversion ratios from 7:1 to 1:7

Deliverables:

Detailed datasheet and user documentation for system integration
HDL testbench covering all functionalities of the core and including automatic verification of the correctness of the responses
FPGA Netlist
HDL (VHDL or VERILOG) source code
Simulation script
Prototyping boards

Part Number: CWda52

FPGA Implementation Results:

| | | | | | | | | | |
| --- | --- | --- | --- | --- | --- | --- | --- | --- | --- |
| Family | Example Device | Slices | IOB | GCLK | Mult18x18 | BRAM | clk_in Fmax (MHz) | clk_out Fmax (MHz) | Design Tools |
| Spartan-3E™ | XC3S1200E-4 | 1793 | 93 | 2 | 10 | 20 | 180 | 57 | ISE 8.1.03i |
| Spartan-3™ | XC3S1000-5 | 1795 | 93 | 2 | 10 | 20 | 148 | 57 | ISE 8.1.03i |
| Virtex-II Pro™ | XC2VP4-5 | 1798 | 93 | 2 | 10 | 20 | 187 | 76 | ISE 8.1.03i |
| Virtex-II™ | XC2V1500-4 | 1798 | 93 | 2 | 10 | 20 | 182 | 58 | ISE 8.1.03i |
| Virtex-4™ | XC4VFX12-10 | 1711 | 93 | 2 | 10 | 20 | 287 | 72 | ISE 8.1.03i |

Other Digital Audio IP Cores:


| | |
| --- | --- |
| IP Name/Part # | Description |
| CWda03 | SPDIF-AES/EBU to I2S Converter |
| CWda04 | I2S to SPDIF-AES/EBU Converter |
| SPDIF-CWda14 | Configurable SPDIF-AES/EBU Receiver |
| SPDIF-CWda15 | Configurable SPDIF-AES/EBU Transmitter |
| I2S-CWda16 | Configurable Digital Audio Serial Input |
| I2S-CWda17 | Configurable Digital Audio Serial Output |
| SDI-CWda41 | SDI Audio De-embedder |
| SDI-CWda42 | SDI Audio Embedder |
| CWda30 | 3rd Order Stereo Digital Audio Sigma-Delta Modulator |
| SRC-CWda50 | Stereo / Mono Sample Rate Converter |
| SRC-CWda52 | Multi-Channel Audio Sample Rate Converter (ASRC) |