DDR 3 SDRAM Memory Controller IP Core
Overview:
The Double Data Rate 3 (DDR3) SDRAM Memory Controller Core is designed for use in applications requiring high memory throughput, high clock rates and full programmability.

The core accepts commands using a simple local interface and translates them to the command sequences required by DDR3 SDRAM devices. The core also performs all initialization and refresh functions.

The core uses bank management techniques to monitor the status of each SDRAM bank. Banks are only opened or closed
when necessary, minimizing access delays. Up to eight banks can be managed at one time. A command queuing interface is
used enabling multiple, random address requests to be queued up, each with lengths as short as 4 DDR3 data cycles. This
architecture provides optimal bandwidth utilization both for cases of short transfers to highly random address locations as
well as cases of longer transfers to contiguous address space.

The core is provided with run-time programmable inputs for all timing parameters (tCL, tRC, tRCD, tRP, tMRD, tRRD, tRFC, tRAS) as well as memory configuration and refresh period settings. This ensures compatibility with all DDR2 SDRAM configurations.
Three optional add-on core are available:
DDR 3 SDRAM Memory Controller IP Core Features:
• Command queuing and bank management enable up to 100% memory throughput
• Supports auto-precharge commands for optimum random access performance
• Achieves high clock rates with minimal routing constraints
• Supports all standard DDR3 SDRAM chips and DIMMs
• Run-time configurable timing parameters and memory settings
• A variety of read capture options are supported
• Automatic generation of initialization and refresh sequences
• ECC, RMW and Multi-Burst add-on modules available
• Supports self-refresh and powerdown modes
• Source code available
• Customization and Integration services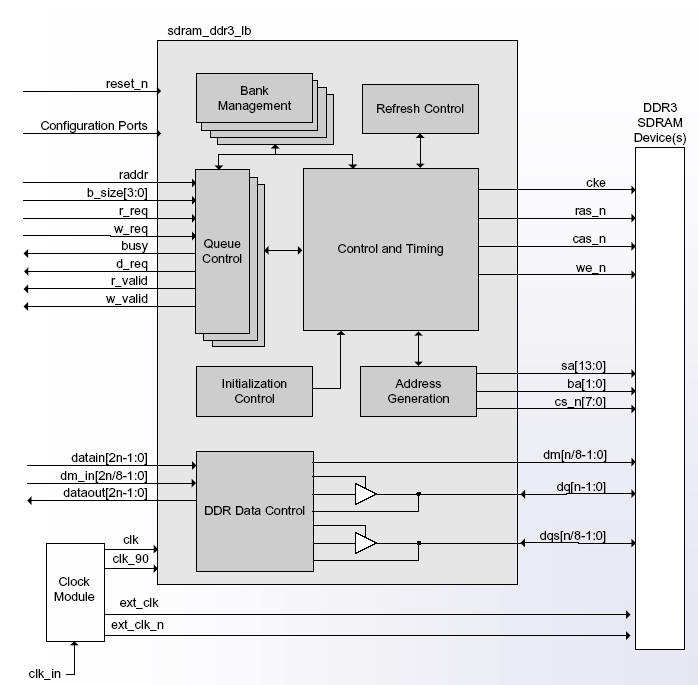 IP Core Deliverables:

· Core (Netlist or Source Code)
· Comprehensive Verification Suite (Source Code)
· Complete Documentation
· Expert Technical Support & Maintenance Updates
Speed & Size:
| | | | | |
| --- | --- | --- | --- | --- |
| Device | Version | Data Rate (per pin) | Clock Rate | Size |
| Virtex-5 | Full Rate | 666 Mbit/s | 333 MHz | 1,950 LCs |
| Virtex-5 | Half Rate | 666 Mbit/s | 167 MHz | 2,150 LCs |