Product Updates

FireFly Brochure

12x14G FireFly Module (12Tx and 12Rx)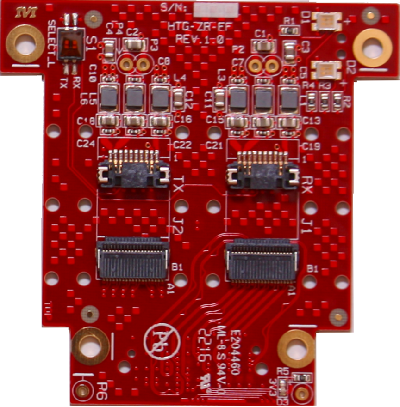 Introduction:


The FireFly™ Micro Flyover System™ is the first interconnect system that gives designers flexibility of using micro footprint optical and copper interconnects interchangeably with the same connector system.
The FireFly™ system enables chip-to-chip, board-to-board, on-board and system-to-system connectivity at data rates up to 28 Gbps (14Gb on this module with 28G in development). FireFly™ is based on a high performance interconnect system which allows the use of low-cost copper cables or high performance active optical engines.
Samtec copper, equalized copper, and optical cable systems provide the flexibility to achieve higher data rates and/or greater distance needs while simplifying board design and enhancing performance.
The ECUE Ribbon Coax Cable features
Performance up to 28 Gbps (14Gbps supported by the HTG-ZR-FF module with 28Gbps in development).
A large variety of end two connector termination options
50Ω 38 AWG micro ribbon coax cable
Capability to enable test and verification of connectors during manufacturing
Lower-cost AcceleRate™ 100Ω 30 AWG twinax ribbon system for improved signal integrity and lower profile
The ECUO Active Optical Cable assembly features
x12 unidirectional or bidirectional transceiver system
14 Gbps or 28 Gbps (in development) channel system
Proven 850 nm VCSEL array technology
Available in panel mount or full Tx-to-Rx active optical cable
Protocol agnostic and supports all data center and HPC protocols including Ethernet, InfiniBand™, Fibre Channel, PCIe®
The module uses high-performance ZRAY port interfacing to Xilinx and Altera FPGAs.
Z-Ray® micro array interposer is ultra-low profile, high density, highly customizable compression contact arrays used as interposers or as board level interconnects. Compared to standard interposers, they feature greater density, X-Y-Z axes flexibility, customizable shapes and patterns, increased cycle life, low normal force with high deflection range and 28+ Gbps performance. HiTech Global is using Z-Ray connectors in conjunction with high-speed serial transceivers (up to 14Gbps) of FPGAs for daughter card and board-to-board interfaces. The HTG-ZRAY bus provides the most optimized performance and the best signal integrity.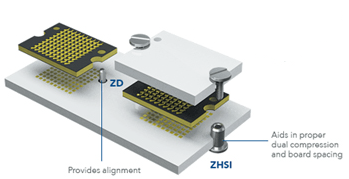 Supported FPGA Platforms


(HTG-K800)
Kintex UltraScale Development Platform


(HTG-K816)
Kintex UltraScale
Development Platform
(front panel Interface)

(HTG-828)
Virtex UltraScale
Development Platform

(HTG-830)
Virtex/Kintex UltraScale
Development Platform


(HTG-A100)
Arria10
Development Platform


(HTG-840)
Virtex UltraScale
Development Platform
Ordering information:

Part Number: HTG-ZR-FF
Price: $555 [Buy Online]